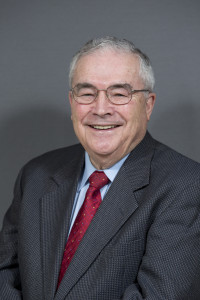 Dec 20, 2016 – Mo-Sci Corporation co-founder, Delbert Day, PhD has been named a National Academy of Inventors (NAI) Fellow. A lifelong glass and ceramics pioneer, Dr Day's work with specialty glasses has lead to treatments for liver cancer, bone defects, and wound care.
The NAI made the announcement on Tuesday, Dec 13, 2016 in recognition of Day's "highly prolific spirit of innovation in creating or facilitation outstanding inventions that have made a tangible impact on quality of life, economic development and the welfare of society." The ceremony will be held in Boston, MA. April 5-7th, 2017.
An expert in developing specialty glasses for numerous applications and industries, Day is known for co-inventing radioactive glass microspheres, now marketed under the brand name TheraSphere, which are used worldwide to treat patients with inoperable liver cancer.
More recently, work by Day and other Missouri S&T researchers has led to the development of bioactive glass fibers that help speed the healing of chronic, non-healing wounds.
Day is a Curators' Distinguished Professor Emeritus of ceramic engineering at Missouri University of Science and Technology and has served Missouri S&T for over 50 years in various teaching, research and administrative capacities. During his tenure at Missouri S&T, Day has published more than 400 papers on the properties, structures and uses of glass, has edited three books, and has received 47 U.S. and foreign patents, with another seven U.S. patents pending.
About Mo-Sci Corporation
For 30 years, MO-SCI Corporation has been a world leader in high quality precision glass technology working with many fortune 500 companies as their preferred or sole provider of specialty glasses. MO-SCI's glass microspheres, fibers and frit have many uses including (internationally recognized) healthcare and industrial applications. Our products include bioactive glasses, sealing glasses, glass microspheres and porous glasses just to name a few. We invite you to learn more about Mo-Sci Corporation at www.mo-sci.com.
Contact information:
Krista Grayson
Director of Sales
Mo-Sci Corporation
Tel: (US) +1.573.364.2338
Email: kgrayson@mo-sci.com