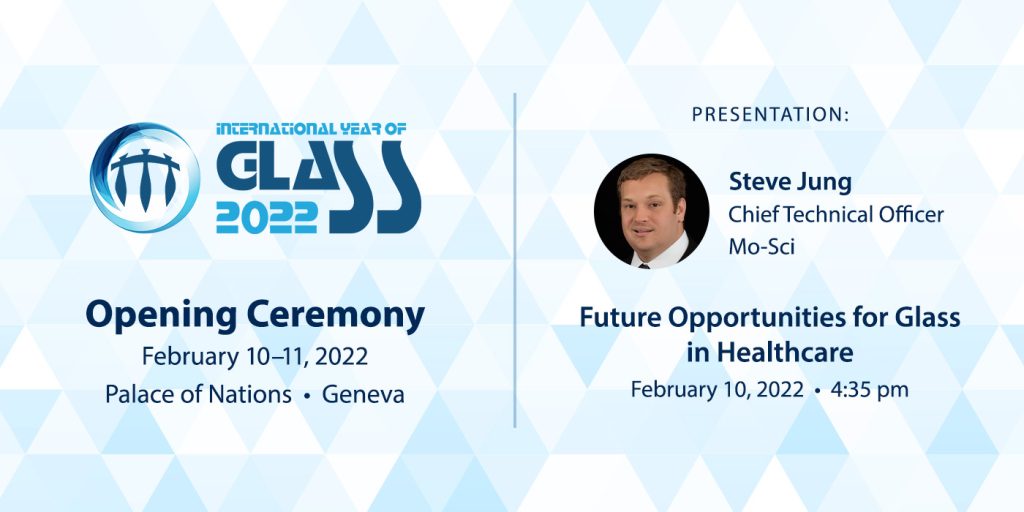 Accomplished glass scientist and Mo-Sci CTO Steve Jung will be among the list of 30 distinguished speakers at the Opening Ceremony for the UN International Year of Glass (IYOG) in Geneva.
The IYOG Opening Ceremony will take place in Geneva, Switzerland on February 10–11, 2022. The two-day event will be hosted at the UN Palace of Nations in Geneva and will feature several presentations from world-class speakers. These will include experts in the fields of art, archaeology, medicine, energy, telecommunications, and many more.
Steve will present his talk entitled Future Opportunities for Glass in Healthcare on February 10.
In-person attendance to the event in Geneva is limited, but a live stream and post-show recording will be available for remote viewing.
About the International Year of Glass
In May 2021, the UN declared 2022 to be the International Year of Glass after a successful campaign led by several international glass organizations.
The International Year of Glass is set to include many activities across the world, including an ICG Congress in Berlin, a Glass Expo in China with satellite events, and Art/History Congresses in Egypt, the US, and Europe. Dedicated issues of international journals will be printed, exhibitions are planned in museums, and educational materials are being prepared.
More information on the International Year of Glass can be found on the IYOG website: https://www.iyog2022.org/
Details about the IYOG Opening Ceremony in Geneva can be found on the dedicated Opening Ceremony website: https://iyog2022oc.org/