In Loving Memory of Ted Day
Posted Krista Grayson on Sep 14, 2020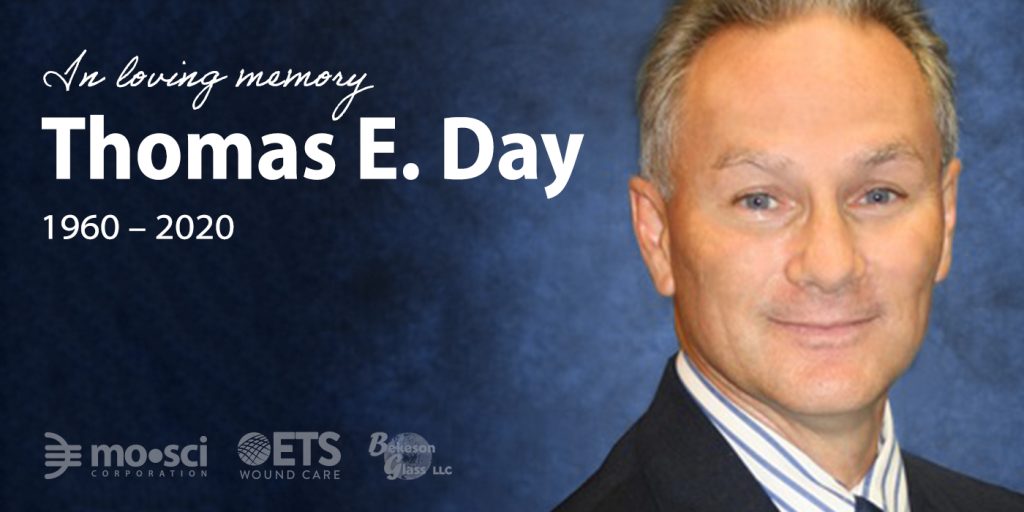 The Mo-Sci, ETS Wound Care, and Bekeson Glass families are deeply saddened by the loss of our beloved friend and leader, Thomas E. "Ted" Day. Ted passed away Monday, September 14 at the age of 59. He will be greatly missed by his family, friends, colleagues, and employees.
Funeral and Visitation Services
A visitation for family and friends of Ted Day will be held from 4-8 p.m. on Friday, September 18, 2020, at First United Methodist Church in Rolla, Missouri (view map).
A funeral service will be conducted at 11 a.m. on Saturday, September 19 at the Church. A private family interment will follow. The funeral will also be live-streamed at https://firstumcrolla.online.church.
Gifts and Donations
The family of Ted Day has requested memorial donations in honor of his giving spirit be made to the TKD Foundation. Your gift will allow his and Kim's philanthropic vision to continue on by envisioning a world where people's most basic needs are met, and one where innovative ideas can be turned into real help for humankind.
Please send your memorial contributions to:
TKD Foundation
700 North Park St.
Rolla, MO 65401
For more information, visit the Null and Son Funeral Home website.
Stay updated!
Sign up for our newsletter and get updated when we publish new glass related content and resources.